I have a week until I go to Rome!!!
...Hopefully.
I still don't have my student visa yet - Yikes!
I'm hoping the Italian Government and American Postal System won't fail me. Last week the mini-apocalypse slowed down the mail which caused my Visa to be sent in 4 days later than planned, but hopefully it will be sent to me within the week. (WISH ME LUCK).
In the mean time, I'm trying not to buy anything while still here in America - and it is very difficult.
My newest clothing craving is for the spring trend of big, breezy skirts. They aren't too long, but aren't too short. They show some skin, but hide those thunder thighs. They can catch the wind, but aren't so short that when they fly up they expose your goodies - this has happened to me with a flowy mini-skirt and it ain't pretty folks.
According to
fashionologie
, these skirts can be seen in the collections of Vena Cava, Proenza Schouler, and more.
Vena Cava


Marc by Marc Jacobs
Tracy Reese
And of course the ones I find and fall in love with aren't really all that affordable. Hopefully there will be some good finds over in the shops in Rome.
I am also a fan of wider legged pants. I
talked about it earlier in my blog
how I noticed that flared jeans were having a bigger presence on the runway. I still haven't found a good pair that wasn't...well, expensive. *sigh*. I'm loving my 7 For All Mankind wide leg jeans, but they have a hole in them and the inseam is about 5 inches longer than my actual leg. I don't feel like having them tailored. Meh. Oh the plight of the vertically challenged.
I'm obsessed with the amazing silouette wide leg pants and a fitted top can create. My favorite example is from Tracy Reese 2011.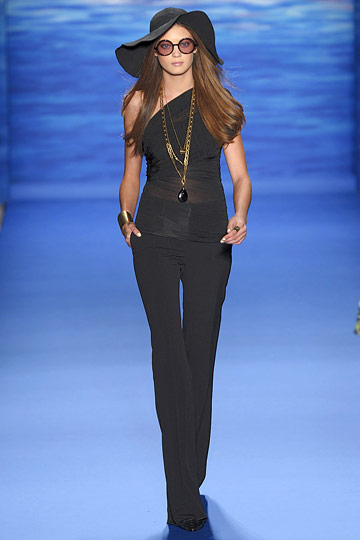 What do you think about the lengthening hemlines and expanding leg widths?